The Ultimate Online
Guitar Lessons Experience™
Online video lessons you can watch anytime along with
real teachers who'll support you every step of the way.
Get The Guitareo Advantage
Say hello to your unfair advantage.
Benefit from saving more time and money while learning guitar at home.
Private Lessons
Step-By-Step Curriculum
Consistent & Qualified Advice
Progress-Tracking
Live Lessons & Questions
Personal Reviews & Feedback
LEARN TO PLAY POPULAR SONGS
Downloadable CHORD CHARTS
CONNECT WITH GUITAR LEGENDS
Re-Watch Any Lesson
Learn From Home, Anytime
Supportive Community
100% Money Back Guarantee
Free Trial

$200/mo
Typically $50 per 30-minutes.

For private lessons.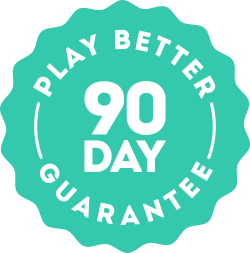 Happy student guarantee.
Test-drive your lessons for 90 days. Zero risk.
Online lessons can be intimidating. Maybe you're wondering if they work, or if you'll use them enough – or if you'll even enjoy the experience. So we're removing the risk with our 90-day guarantee. More than anything, we want to make sure you have a POSITIVE experience developing new skills and gaining confidence on the guitar.
1
Start your
lessons today.
2
Enjoy them for 90

days, risk-free.
3
Change your mind?
Get a refund.
Now Available
Dean Lamb
Shredding Fundamentals
One of the most powerful tools any guitarist can have is the ability to shred. And 8-string guitarist of death metal band Archspire, Dean Lamb, will show you the techniques to harness your own power on the guitar.
Now Available
Sami Ghawi
Strumming & Rhythm
Often the unsung hero of playing the guitar, rhythm and strumming play a big role in becoming a well-rounded guitarist. And with 20 years of teaching experience, Sami Ghawi will share his tools of the trade so you can lock in your timing and feel.
Now Available
KENT SHORES
Your New Sounds For Soloing Are Here
Kent holds a degree from the University of North Texas in Jazz Studies - Guitar Performance with a Minor in Music Theory and has performed across Canada, the United States, and India with various bands.

Ranging from complete beginners to more advanced players, his teaching philosophy is all about bringing out the best in his students and fostering a love of music. He strives to make sure that music lessons are fun and enjoyable. He finds great joy in sharing music with his students and celebrating their achievements.
Now Available
Rob Scallon
Songwriting Cheat Codes
If you like songs and own a guitar, then you can be a songwriter. Famous guitar influencer, Rob Scallon will show 5 cheat codes to build entire songs from scratch. He'll even uncover the mystery process of writing songs with the "spaghetti principle."
Now Available
AYLA TESLER-MABE
Musicality, Performance, & Inspiration
Ayla Tesler-Mabe has made a splash in the music industry as a professional guitarist, vocalist, and songwriter -- playing in popular bands including Ludic and formally Calpurnia. And while she's actively creating new music and performing, Ayla's also passionate about helping students through Guitareo every day!

Ayla's no stranger to answering questions candidly, lending advice, and starting conversations about all things guitar -- and her teaching style makes students feel comfortable and encouraged, so you'll keep practicing and developing your skills.
Coming Soon
Yvette Young
Creativity & Expression
Having the ability to express your creativity is a big part of being a guitarist. Whether it's discovering her own style or fronting her own band, Yvette Young is the perfect coach to show you what you need to uncover your creative self.
Coming Soon
Pete Thorn
Expand Your Musicality
Great tone can make all the difference in sounding good on the guitar. And self-proclaimed "guitar nerd" and pedal expert Pete Thorn will show you how to get the best sounds from everything you play.
Coming Soon
Dave Weiner
Adding Power
Building a foundation is key if you want to learn the guitar. Dave Weiner (Steve Vai's guitarist for 22 years) will share his foundational secrets so that you can get started the right way and progress faster with your skills.
Coming Soon
Mark Lettieri
GRAMMY Insights
Having groove and feel is essential on the guitar. As the guitarist for Snarky Puppy – and recording with legends including David Crosby and The Jacksons – Mark Lettieri is one of the funkiest guitarists out there, and he'll show you all the tips and tricks to tighten up your grooves and improve your rhythm playing.
Coming Soon
Dave Martone
Fretboard Mastery
Your potential on the fretboard is unlimited. And iconic shredder Dave Martone (Joe Satriani, Nickelback, 3 Doors Down) will show you how to unlock every bit of it so you can navigate every note, fret, and scale with ease.
Ërlik Sörensen
British Columbia, Canada
I'm lightyears ahead of where I was.
I've come so far in such a short period of time. I've gone from not even knowing what palm muting was to noodling with the E & A string pentatonic shapes and creating melodies with it – and using it to work on my vibrato, slides, and bends. And I've gained priceless info like knowing where to place chords, start power chords, and scale shapes.

Having the breakthroughs I've had so far has brought me confidence and kept me sane while the world is seemingly not – and made me believe there is still a bright future ahead. As I progress, I feel supported towards achieving my goals of jamming with others and using my love for writing to start telling stories through music. All in due time.

I'm lightyears ahead of where I was at. And no matter where I go, or however tough things get, I'll always have one of my guitars in the passenger seat and we'll always be there for each other. The life long journey has begun!
Vetriselvi Senguttuvan
India
The frustration is over.
I'm already playing things that were a nightmare to me before. Strumming patterns, smoothly changing chords, and improvisation of different scales. I'm even playing songs using my own chord progressions and pentatonic scales. I'm enjoying listening to myself play and proud of my progress!

The frustration is over. Guitareo has what a guitarist wants and it's been a fun and easy learning experience.
Jamie K
Nova Scotia, Canada
I've never felt so much JOY playing the guitar.
When I finished the first lesson, I had a feeling of joy that I've never had before when playing guitar. I'm experimenting a lot more and improving my technique. The goal-based learning makes each set of lessons more entertaining and a feeling of accomplishment when completed.
Patrizia K
Germany
I finally feel like I'm able to learn the guitar.
Guitareo focuses on smaller tasks and achievements along the way to make you feel like you're improving. In level four of GuitarQuest, I played the G chord for the first time without any pain in my hands. I finally feel like I'll really be able to learn the guitar and succeed! This course is SO much fun and keeps me motivated!
Jim McKenna
Illinois, USA
I like the sincerity, knowledge, and positivity.
The internet is a nice resource for ideas, methods, tips, and tricks, but there is no linear method. I have to create one on my own, and I don't want to teach guitar. I want to play.

So I joined Guitareo because I like the sincerity, knowledge, and positivity. Nate introduced me to the Million Dollar Progression. And Ayla showed me how to solo using backing tracks. They got me started on my journey and gave me confidence. Now I'm excited to practice. My Fender Hellcat seems to fit into my hands and against my body like it didn't before. And I can actually say "I'm a guitarist!" Well, how about that!
Jan M
Germany
I've started making my own melodies.
Guitareo has been fun and motivated me to try more. I like how we start making melodies quickly along with helpful background information on chords and notes. I love seeing other students post their melodies -- it's so much fun to listen to others!
Athina Katri
Greece
I normally never play guitar in front of friends.
I had classical guitar lessons 15 years ago and since then I've wanted to play acoustic and electric guitar. I've been trying to figure them out on my own and it was frustrating – trying to play pentatonics, or mute strings. And then I found out about Guitareo!

I feel happy and more confident while playing, even though it's pretty early. I played my first song with mini barre chords and actually enjoyed it. I've never done that before! And I even sent a video playing a punk play-along song to a friend (and I normally never play guitar in front of friends). I would definitely recommend Guitareo. You have done really good work and I personally thank you for that!
WJ Williams
Georgia, USA
I'm holding my own while still having fun!
I was skeptical at first. I've seen online lesson sites that are really bad, so I started with a monthly subscription. After going through the beginner lessons, I saw that Guitareo was totally different from other sites. I've had a guitar for years and struggled to play anything more than G, C, and D – and I always had trouble learning new chords and progressions. Guitareo's lessons helped me advance and have more fun playing the guitar.

I have broken through doors that were closed to me several times. Things that I've struggled with for years have been explained in ways that make sense – and the Guitareo instructors have helped me become more comfortable. Now I'm able to sit in with friends that are way better players than me and hold my own while still having fun!