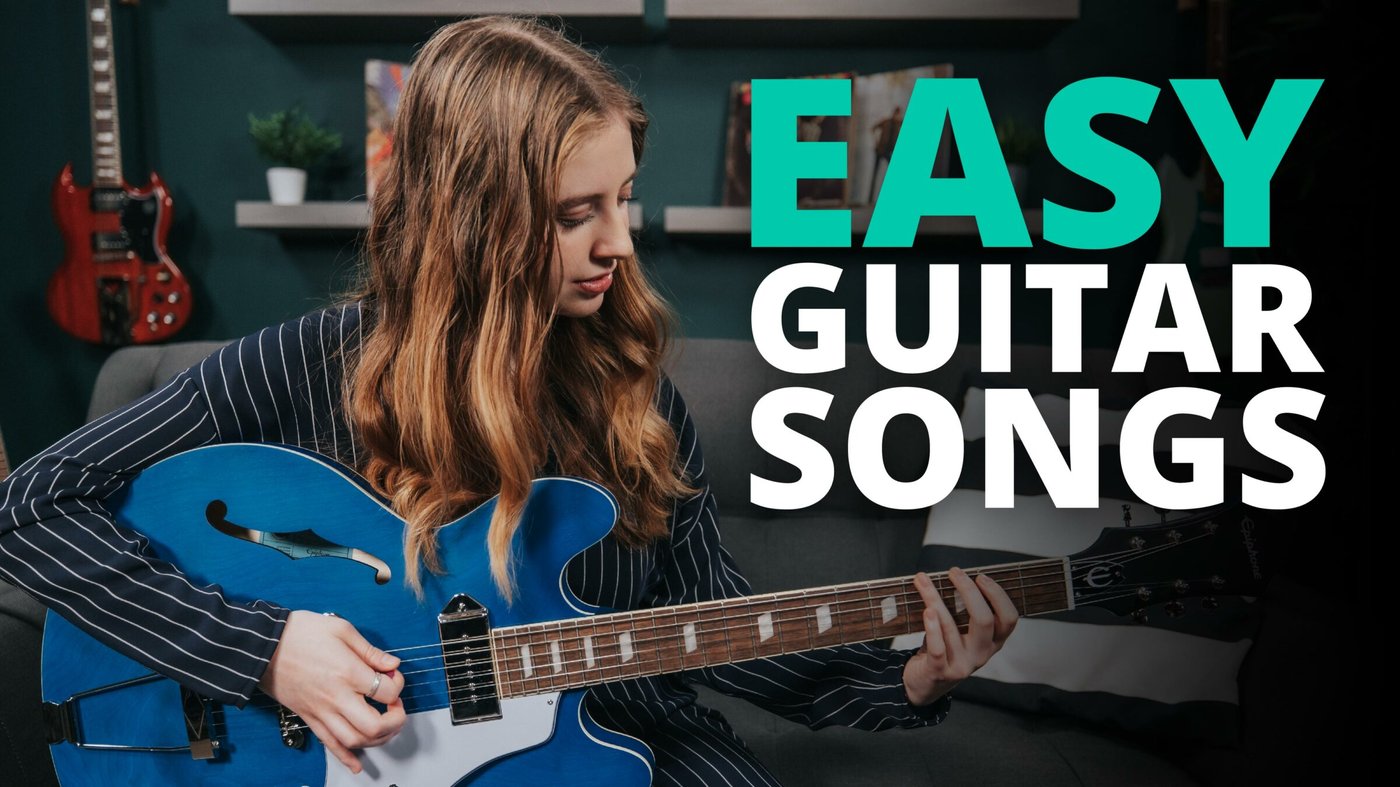 When you're a beginner guitar player, learning how to play songs you love is probably at the top of your list of goals. Unfortunately, a lot of lessons out there will take you through boring exercises that don't allow you to do what you really want to… have fun! So in this guide, we've put together a few songs for you to learn as a brand new guitarist.
The guitar lessons in this article focus on teaching you how to play the classics – songs that your friends or family might ask you to play. We'll start off by taking a look at five songs with downloadable PDF chord charts. After that, we'll dive into a more in-depth tutorial on one of the most requested beginner guitar songs – Take Me Home Country Roads. We'll round out this lesson with a quickfire video going through twelve easy songs you can play with just two chords.
5 Easy Guitar Songs For Beginners
Let's get to the good stuff first. We've picked out five awesome songs that you can start playing right now with the downloadable chord charts. Each one of these songs is fairly easy if you have the basics down on the guitar. If you're not yet comfortable with beginner open chords, check out this guide here: The Ultimate Beginner Guitar Chord Guide
If you already know your chords, you can get started with these songs:
"American Girl" – Tom Petty
Download the Chord Chart Here (PDF)
"Bad Moon Rising" – CCR
Download the Chord Chart Here (PDF)
"Hotel California" – The Eagles
Download the Chord Chart Here (PDF)
"Like a Stone" – Audioslave
Download the Chord Chart Here (PDF)
"Little Lies" Fleetwood Mac
Download the Chord Chart Here (PDF)
If you enjoyed learning these songs and want to learn more, check out 500 Songs in 5 Days.
By signing up you'll have access to 500 songs – all with downloadable PDFs AND 5 lessons, teaching you the skills and knowledge to learn them all in 5 days.
How To Play Take Me Home, Country Roads (The Easy Way)
What do you say we learn one of the most iconic singalong songs of all time? It's the perfect song to add to your repertoire early on because it gets everyone around you singing with you! This song doesn't use particularly challenging chords, but if you found yourself struggling with the songs earlier in this article, then Ayla will show you how to play simplified chords as well. These small shapes can be a great way to start making music even if your skills are holding you back a bit!
Once you get the hang of playing the song with the simplified chord shapes, you can try using the full shapes! Ayla has even included a simplified strumming pattern for this song so you can walk before you run. Before you know it you'll be sounding just like the original recording!
Most of the songs you'll encounter on your guitar journey are played using four chords. But there are a whole bunch of songs out there that just use two! These songs are a great place for beginners to build up their song library. There are a few songs here that use bar chords, so if you're not ready for them yet you can feel free to skip over them. If you'd like to work on your bar chords, we have a guide for you here: The Bar Chord Survival Guide

All the chords and strumming patterns are available for you below, but you can also download the PDF for all these songs right here.