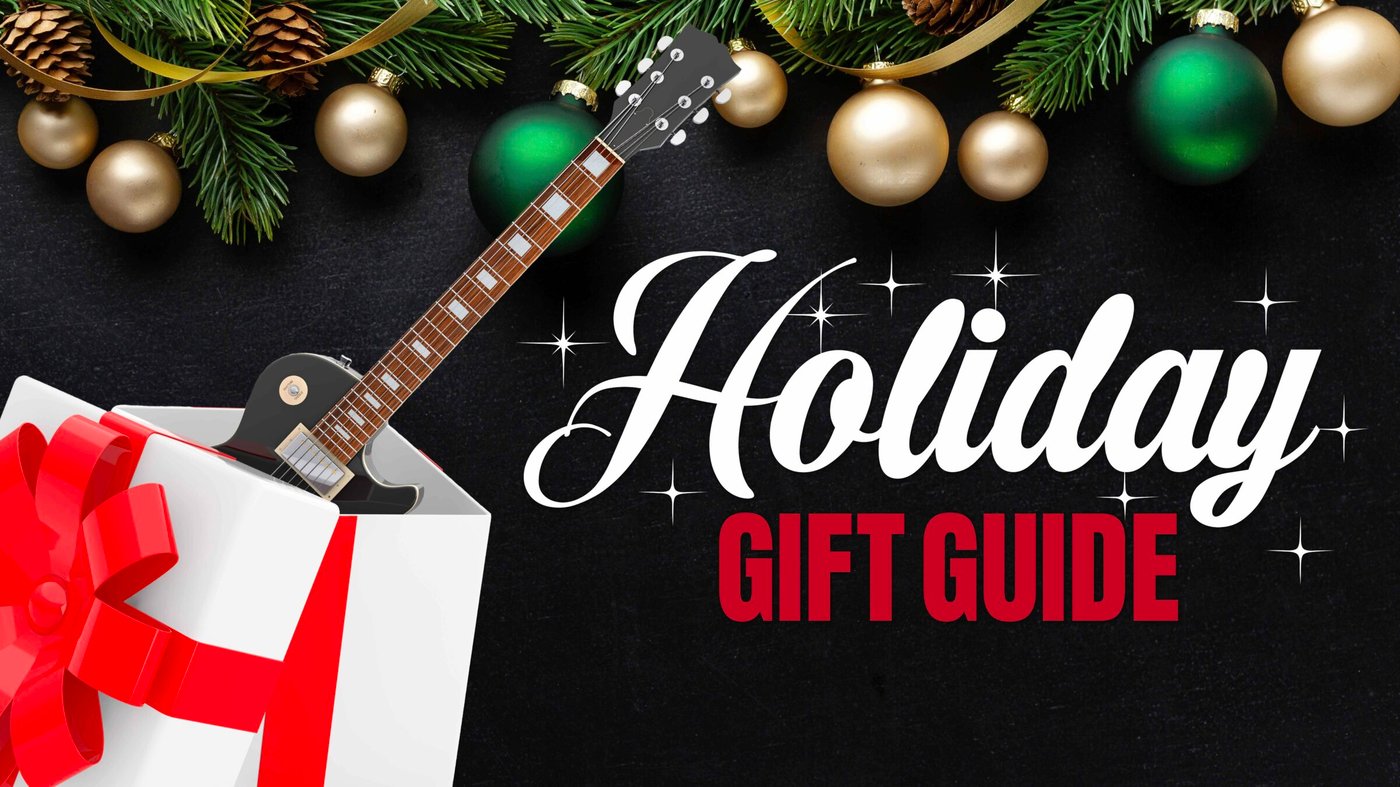 If you're shopping for a guitar player this holiday season, then you might be feeling a little overwhelmed by the sheer amount of options available to you when shopping for electric guitars, acoustic guitars, guitar amplifiers, and guitar accessories.
In this holiday buyer's guide, we'll give you this year's best guitar gear recommendations for the discerning guitarist on your nice (or naughty) list!
Table of Contents:
*This article contains affiliate links, which means we might earn a small commission from the product seller if you make a purchase. For more info, check out our privacy page.
What Kind of Electric Guitar Should I Buy?
We're kicking off this guide with electric guitars because it's probably the most confusing of the categories. Electric guitars come in a wide variety of body styles, pickup configurations, scale lengths, and price points. Ultimately, one style of guitar isn't better than another and it just comes down to personal preference and preferred music styles.
Body Style: The quickest way to tell different electric guitars apart is by their body style. Stratocasters, Telecasters, Mustangs, and Jazzmasters all come from the same company but have totally different looks. Les Pauls and SGs are also from the same company but offer different aesthetics from one another. Choosing the best body style is like choosing the best pair of shoes – everyone is going to have a different preference.
Pickup Configuration: There are two primary categories of guitar pickups – single coils and humbuckers. Single coil pickups are half the width of humbuckers and have a brighter, more articulate sound. They sound great for country, blues, pop, soul music. Humbuckers both sound thicker and are physically thicker than single coils. They are the go-to pickup type for rock and metal guitarists.
Scale Length: Did you know that some electric guitars are longer than others? Fender (and Fender-style) guitars are actually slightly longer from the saddles to the nut. This creates a small increase in string tension when tuned to pitch that can be desirable or undesirable depending on the guitarist. Keep in mind that scale length does make a slight tonal difference – guitars with a shorter scale length (Gibson-style guitars) tend to sound darker while the guitars with longer scale lengths sound brighter.
Budget: Last but not least, we need to talk about price point. In this guide, we've included guitars that fit into every budget. Keep in mind that construction quality, electronics, playability, tone, finish quality, and resale value are all noticeable factors and can be affected by how much you spend. That doesn't mean you can't get a great guitar for a great price – but sometimes spending a little more is worth it.
Electric Guitars
Stratocaster
The Stratocaster really is the swiss army knife of guitars. A true classic found in the hands of legendary players from every genre imaginable and a million and one options to adapt to any player's needs.
Entry-Level:
Intermediate:
Professional:
Mustang
The stylish little sibling of the Fender/Squier lineup may look small and unassuming, but it packs a huge punch in all of its variants! Its smaller size and shorter 24" scale length offers smaller guitarists an easier playing experience compared to Fender/Squier's standard 25.5" scale length.
Entry-Level:
Intermediate:
Professional:
Jazzmaster
The alternative hero of the electric guitar world! This is a truly unique looking, sounding, and feeling guitar that's fit for nearly any scenario! Despite its name, this guitar has been most prominently played outside of the bounds of jazz, although it suits that style of playing as well. It found a home early on in the hands of the surf and rock innovators of the 60s and today, it's used by legends from all walks of music.
Entry-Level:
Intermediate:
Professional:
Telecaster
The most classic of Fender's guitars. The Telecaster shares quite a bit in common with the Stratocaster in terms of versatility and tonal variety, but make no mistake, this is a guitar without rival in terms of its feel and sound. Since its introduction in 1949 as the "Fender Esquire" (the very first solid-body electric guitar ever sold), the Telecaster has seen countless updates to fit the needs of players from every genre. This guitar has remained a staple of stages across the world for over 70 years and for good reason. Nothing can really beat the feel and sound of a good Tele.
Entry-Level:
Intermediate:
Professional:
Les Paul
Gibson's tried and true classic may be the most iconic guitar in rock n' roll history (and that's saying a lot). There have been many iterations of the Les Paul over the years and the selections on this list really stand out for offering their own unique takes on Gibson's classic formula.
Entry-Level:
Intermediate:
Professional:
SG
The SG started life as the Les Paul's little brother but quickly grew to become a staple of the Gibson lineup on equal footing with its older sibling. The small body and unmistakable tone of the SG earned this guitar a well-deserved place in music history.
Entry-Level:
Intermediate:
Professional:
What Kind of Acoustic Guitar Should I Buy?
Body Type: Acoustic guitars come in numerous shapes and sizes. On the larger side, you'll find dreadnoughts and jumbos. These guitars have a full and rich sound with a big bottom end. Parlor, 0, 00, and 000 guitars are smaller and have a more pronounced midrange with less bottom end.
Woods: In more affordable guitars you'll find laminated woods and in more expensive guitars you'll find solid woods. Spruce is a common top wood and for the back and sides, you're likely to see either mahogany or rosewood. Every wood combination has a different tone and listening to some playing samples online will help you find your tonewood preference.
Scale Length: Just like electric guitars, acoustic guitars come in various scale lengths. The shorter scale lengths tend to come on smaller-bodied guitars and are easier for beginners due to the lessened tension. On the larger guitars, you're more likely to find longer scale lengths which can be a little more challenging to play.
Budget: You can find a killer acoustic guitar for a few hundred bucks or a few thousand and setting a budget will allow you to get the most for your money. Just keep in mind that there are diminishing returns as guitars increase in price and the sweet spot is usually in the $1000-$1500 range. If you spend more than that you'll surely end up with an incredible instrument, it just won't be significantly better than something hundreds (or thousands) of dollars cheaper.
Acoustic Guitars
Entry-Level:
Intermediate:
Professional:
Guitar Amplifiers
Entry-Level:
Intermediate:
Professional:
Accessories
There are so many great acoustic and electric guitar accessories out there that we decided they needed their own dedicated guide. Check out our 15 Best Guitar Accessories Of 2021. In this guide, we have links to the best tuners, capos, guitar picks, audio interfaces, cables, headphones, and more!
The 15 Best Guitar Accessories Of 2021
We hope this guide helped narrow down your search for the best gifts for guitarists this holiday season!
*This article contains affiliate links, which means we might earn a small commission from the product seller if you make a purchase. For more info, check out our privacy page.