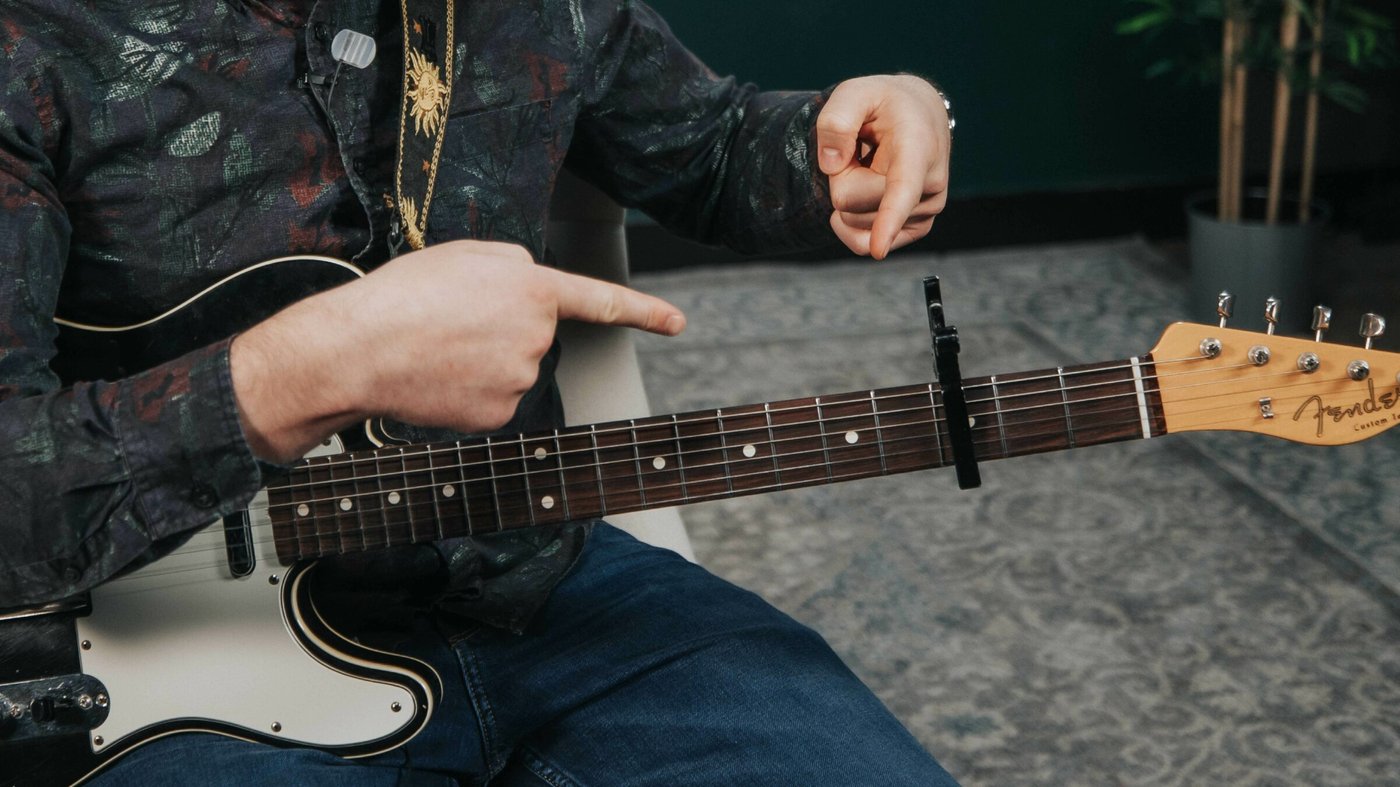 No matter what kind of guitar player you are, some good accessories can go a long way to improve your playing experience and even help you grow as a musician. So here are 15 of our favorite guitar accessories for 2021.
We've included accessories for all types of players — beginners, professionals, acoustic strummers, electric shredders, and everything in between. Whatever your preference, you're bound to find a few accessories that will make your guitar life easier!
All prices are in USD and are subject to change.
Table of Contents:
Headstock Tuner
There's no better accessory for your guitar than a quality headstock tuner (I think we can all agree that staying in tune is pretty important). They come in all shapes and sizes, and some even have extra features that can come in handy. At the end of the day, as long as the tuning function is accurate and the build quality is sturdy, you'll have a piece of gear you can love for years.
Our pick: TC Electronic PolyTune Clip Clip-on Polyphonic Tuner ($45.00)
Pedal Tuner
For the guitar players that prefer to make use of a pedalboard (like me), a pedal tuner might be a more appropriate choice. Strobe tuners tend to be the most accurate and they make a great first pedal in your pedal chain. Remember, all those fancy overdrive pedals won't sound so great if your guitar isn't in tune!
Our pick: Peterson StroboStomp HD Pedal Tuner ($139.00)
Guitar Strap
It doesn't matter if you sit or stand while you play, a guitar strap will help your posture as well as your technique. A leather strap can be an affordable but luxurious accessory that will age nicely along with your guitar.
Our pick: Levy's DM1 3″ Leather Face w/Padded Back Guitar Strap ($34.99)
Capo
Whether you play acoustic guitar, electric guitar, or both, a reliable capo is an absolute essential. There are plenty of them out there for you to choose from. We've based our recommendation on price, build quality, and features. A spring-loaded capo with adjustable tension will make sure you are applying the perfect amount of pressure to the strings no matter what size your guitar neck is.
Our pick: D'Addario NS Tri-Action Capo ($21.99)
Guitar Stand
You've spent good money on your guitar so you shouldn't leave it hanging around on a cheap guitar stand. I've seen a concerning number of guitars do some gnarly face plants due to poorly constructed guitar stands. It's worth finding one that's sturdy and one that doesn't damage the finish of your guitar (some cheap stands do!).
Our pick: Hercules Stands GS414B PLUS Single Guitar Stand with Auto Grip System ($46.95)
Guitar String Changing Kit
Whether you like it or not, you'll probably need to master the art of string changing eventually. Save yourself some time and some frustration by having the necessary tools to change them. Our recommendation includes a few other tools that you can use to adjust the action and set-up of your guitar as well.
Our pick: Dunlop System 65 Guitar String Change Kit ($39.99)
Guitar Cleaning Kit
If you love your instrument, then it's important to take good care of it. A guitar cleaning kit is a great way to effectively remove all that sweat, dead skin cells, dust, and grime. It'll help your guitar keep its value as well as make the playing experience more enjoyable for you.
Our pick: Dunlop 6500 System 65 Guitar Maintenance Kit ($22.49)
Hand Exerciser
Have you ever felt the urge to practice guitar while you're sitting in the office or riding the train to class? A hand exerciser is a great way to build your dexterity when you don't have your guitar around. Nothing beats the real thing, but the VariGrip is pretty awesome!
Our pick: D'Addario VariGrip Hand Exerciser ($14.99)
Slide
A slide can transform your guitar into a whole new instrument! They come in a few different materials and sizes. If you're new to slide, we'd recommend going with a glass one that covers your entire finger. Glass sounds warm and full with every type of guitar, whereas a brass or chrome slide can sound shrill and off-putting with certain guitars.
Our pick: Dunlop 213 Pyrex Glass Slide ($4.95)
Audio Interface
A way to get your guitar into yourThese days, home recording is very accessible to the average musician. Having an audio interface to plug directly into allows you to record your guitar into a DAW (digital audio workstation) like GarageBand or Logic Pro. An interface like this also allows you to plug in a microphone and record an acoustic guitar or voice. Pretty handy and surprisingly affordable!
Our pick: Universal Audio Volt 1 USB-C Audio Interface ($139.00)
Guitar Case Humidifier
Depending on where you live, humidity can wreak havoc on your guitars. This is especially the case for acoustic guitars. An easy way to combat this is with a humidifier for the room your guitar is stored in. But if you want to take it a step further, you can do all of your guitar humidification inside its case. Our recommendation even includes a mobile app to help you monitor your guitar.
Our pick: D'Addario Humidikit Bundle with Humidipak and Humiditrak ($69.99)
Headphones
A solid pair of headphones is a must for every guitar player. Whether you're listening to a song you want to learn or using them to monitor your recordings, it's important that you're listening through something that's accurate. These closed-back headphones from Sennheiser are an industry standard.
Our pick: Sennheiser HD 280 Pro Closed-Back Headphones ($99.95)
Guitar Picks
One of the biggest contributing factors to guitar tone is your choice of pick. Every guitarist has a different preference, but it can be really fun to experiment with picks you don't normally use. These variety packs are a cheap and easy way to explore new tonal options and maybe find a new favorite in the process!
Our pick: Dunlop PVP102 Guitar Pick Variety Pack ($4.99)
Guitar Cable
You'll always need a way to plug your electric guitar into an amplifier or audio interface. While they can get pricey pretty quickly, most guitarists don't need to spend much for a great sounding cable. And as long as you treat it with care, it'll last forever!
Our pick: Pro Co EG-10 Excellines Straight to Straight Instrument Cable ($12.99)
Looper Pedal
A looper pedal is an underrated practice and songwriting tool for guitar players. You can literally jam with yourself! Don't be intimidated either, they are dead simple to use and get the hang of. This pedal is the perfect tool for learning how to improvise, layer guitar parts, or sing over a part that's too hard to play.
Our pick: Boss RC-1 Loop Station Looper Pedal ($105.99)
*This article contains affiliate links, which means we might earn a small commission from the product seller if you make a purchase. For more info, check out our privacy page.