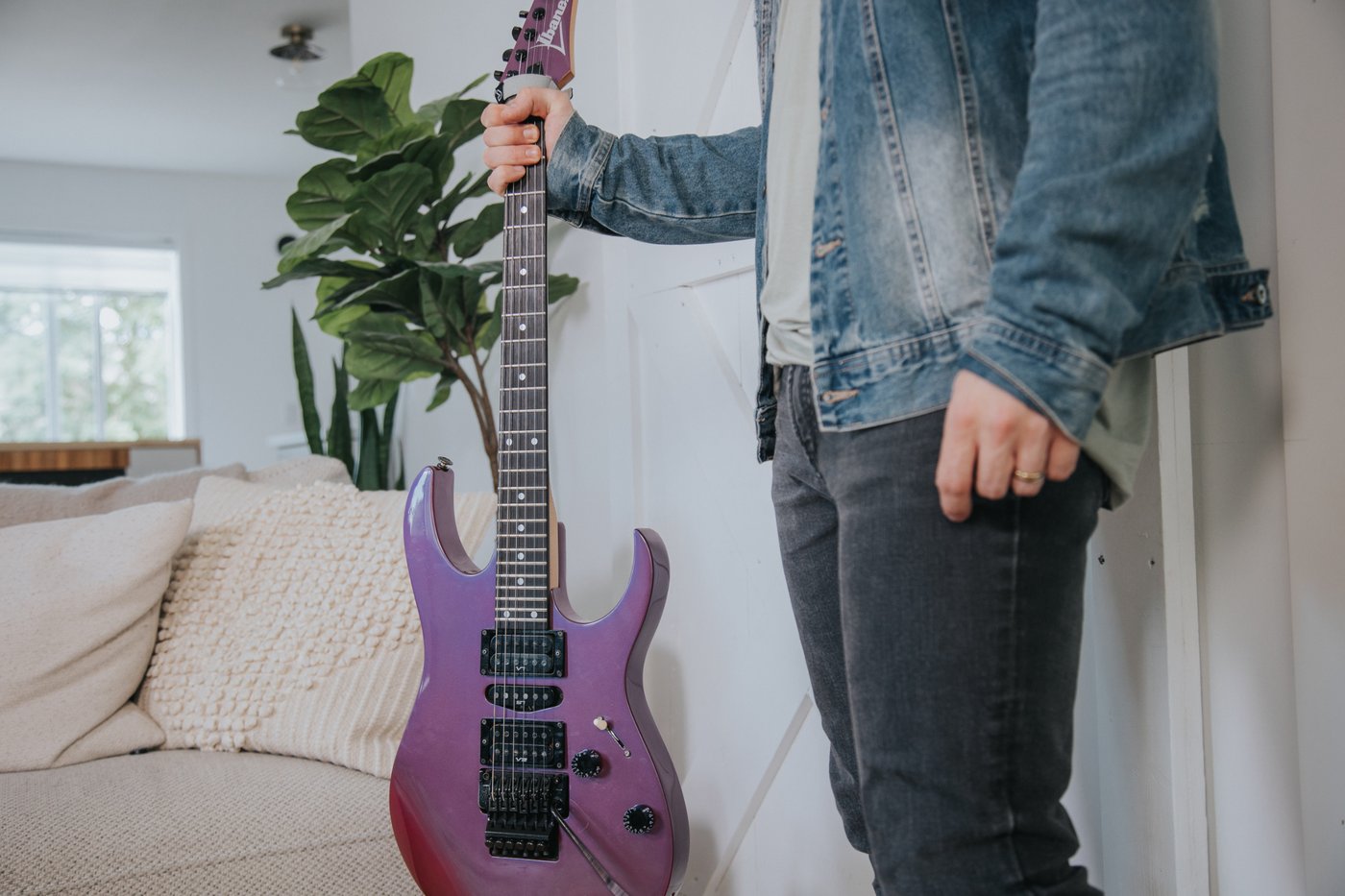 It's a big day! Choosing your first electric guitar is step number one on your journey to playing the greatest musical instrument on the planet. Now, I might be a little biased, but as a 20-year veteran of the guitar, I can confidently say there is no greater feeling than strumming, picking, or shredding through your favorite songs. So I'm excited to officially welcome you to the family!
In this buyer's guide, I hope to demystify some of the most confusing and overwhelming parts of the beginner electric guitar market. I'll give you an idea of what factors you should be considering when choosing your first guitar and also provide you with a full rundown of what all the different specifications mean for you as a budding guitar appreciator. We'll wrap things up with a few of my top electric guitar recommendations in three key price ranges and also a quick dive into the world of necessary guitar accessories.
Without further ado, let's find you your very first electric guitar!
Table of Contents
I. Factors To Consider When Buying Your First Electric Guitar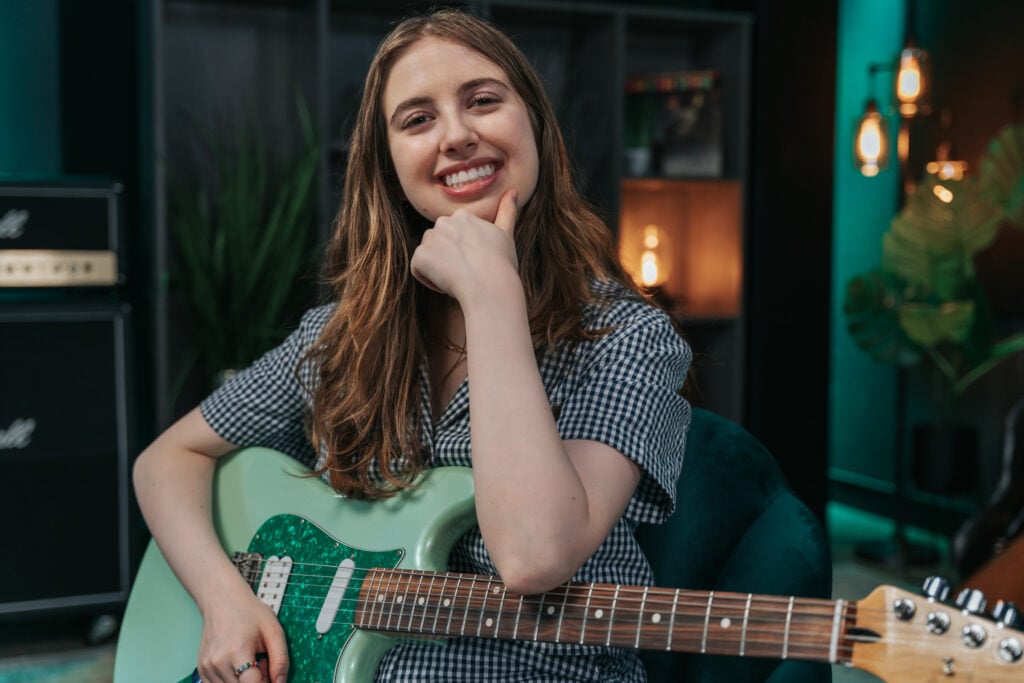 Budget
The very first thing you need to consider when buying a new musical instrument is your budget. Now, there are plenty of reasons to spend a lot and plenty more to spend a little. But in my opinion, it's best not to go too cheap. Guitars tend to hold their value pretty well on the used market, and if you decide to give up on your guitar-playing dreams, you should be able to get a good portion of your money back, even if it's a few years down the road.
There's a bit of a sweet spot when it comes to electric guitars, where you're still getting a well-built instrument, but not hitting those diminishing returns that start to creep in around the $1500 mark. While expensive guitars are an absolute pleasure to play, many of the pricey nuances will be lost on you until you're a more established player.
With the more affordable guitars (under $300), you'll find them to be inconsistent and hard to play due to the less-strict building standards. These guitars will typically need to be set up with higher action (distance of the strings off the fretboard) so that the guitar doesn't buzz and rattle with every chord you play.
Style
The style (or genre) of music you want to get into plays a massive role in dictating which electric guitar will be right for you. There are a number of reasons why this is the case, but primarily, it comes down to the type of pickups that are loaded into the instrument.
Pop, indie, and country music tend to favor guitars that are cleaner (less distortion) and more articulate. Single-coils and P90s do an excellent job of achieving these tones and are the reason why Fender and Squier guitars dominate these genres of music.
For heavier styles like rock and metal, you're going to need a set of humbuckers. These pickups do a better job of handling more distortion and produce significantly less unwanted hum (hence, the name). You have a few more viable brand options with guitars like these, and you'll find great options from brands like Epiphone, Ibanez, Schecter, PRS, and ESP, among others.
Aesthetics
At the end of the day, looks matter. And when it comes to finding your dream guitar, you need something that's going to inspire you to pick it up whenever you look at it. We all like different things, so there isn't much I can say here. Just make sure you choose something that makes you happy, and it's a win!
II. Guitar Specifications & What They Mean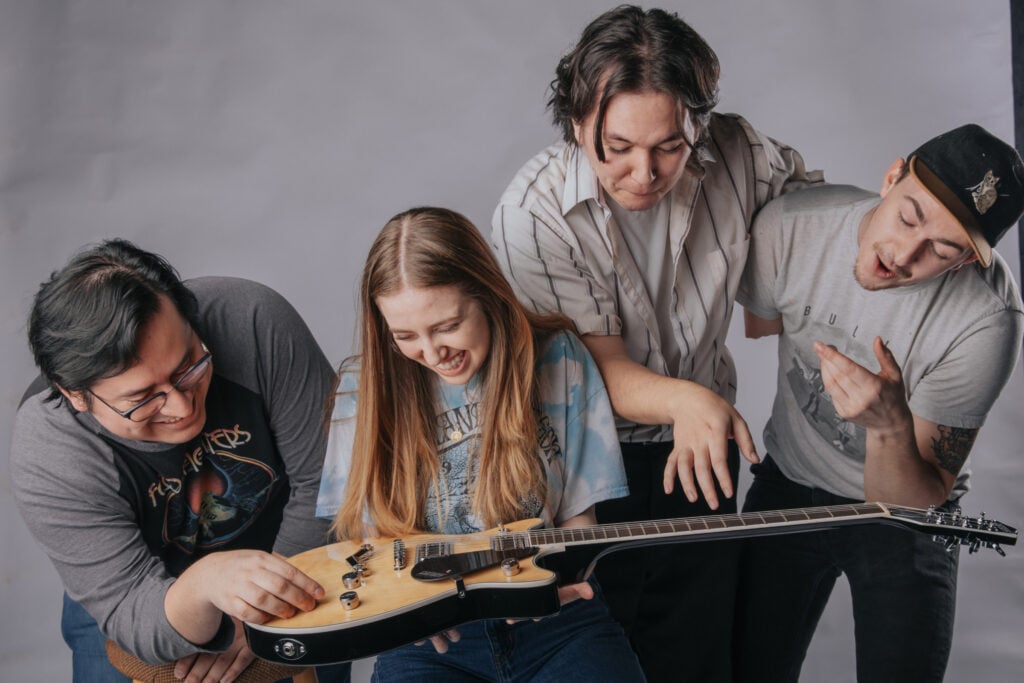 Materials
Both the body and the neck of the guitar can be made from a number of different woods. But do you want to know an industry secret? The type of wood doesn't really matter. Any differences in tone are near-unnoticeable, and as long as the wood is handled correctly by the builder, you can get a great-sounding (and feeling) instrument made from almost anything. The most typical body-woods you'll find are Alder, Swamp Ash, Mahogany, and Basswood. For necks, you can't go wrong with Maple or Mahogany. And lastly, for fretboard materials, you're best off just going with the one that looks the prettiest to you.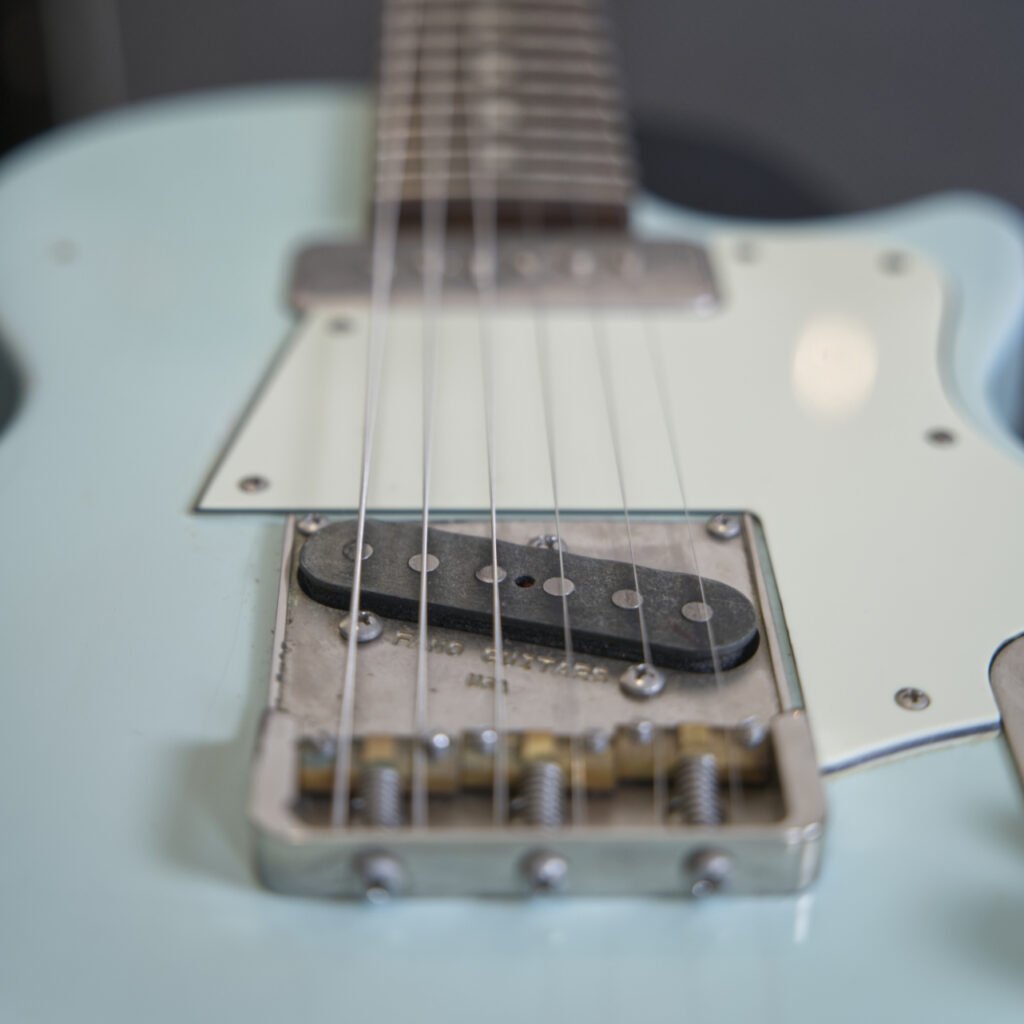 Finish
Finish can refer to both the paint job and the type of lacquer or coating on the guitar. This is mostly an aesthetic choice, with the exception of the finish on the back of the neck. People with naturally sweaty hands might struggle with some types of finish since it can cause their hand to stick. If this sounds like you, I'd recommend finding a guitar with an oiled or sanded finish – typically referred to as a "satin" finish.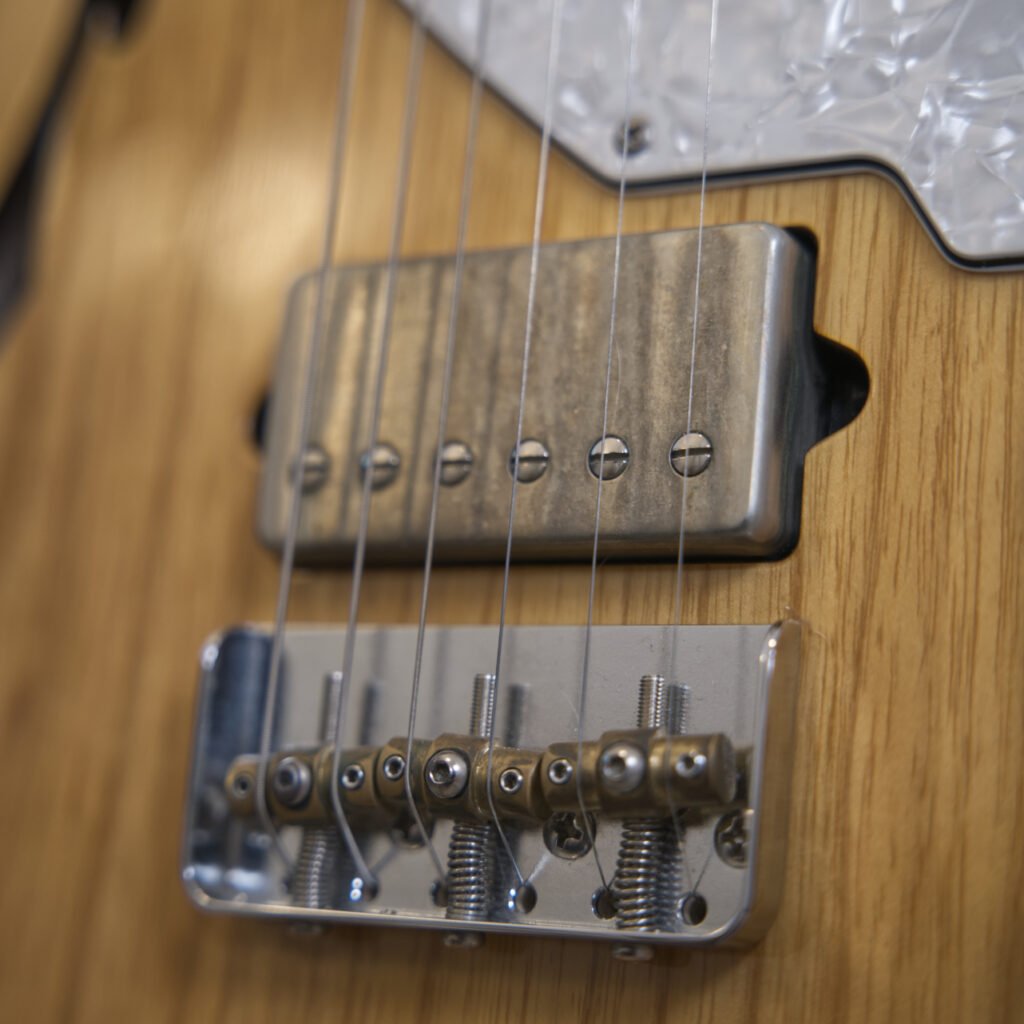 Neck Shape
It's hard to describe the differences between various neck shapes without you being able to feel the differences for yourself. The right neck shape is hugely preferential and comes down to the specific guitar techniques you want to focus on. Chunkier neck profiles can be much easier to chord with, while thinner neck profiles are going to provide less resistance when playing single-note runs further up the neck. However, if you have smaller than average hands, a thick neck may make it harder for you to reach all the strings comfortably.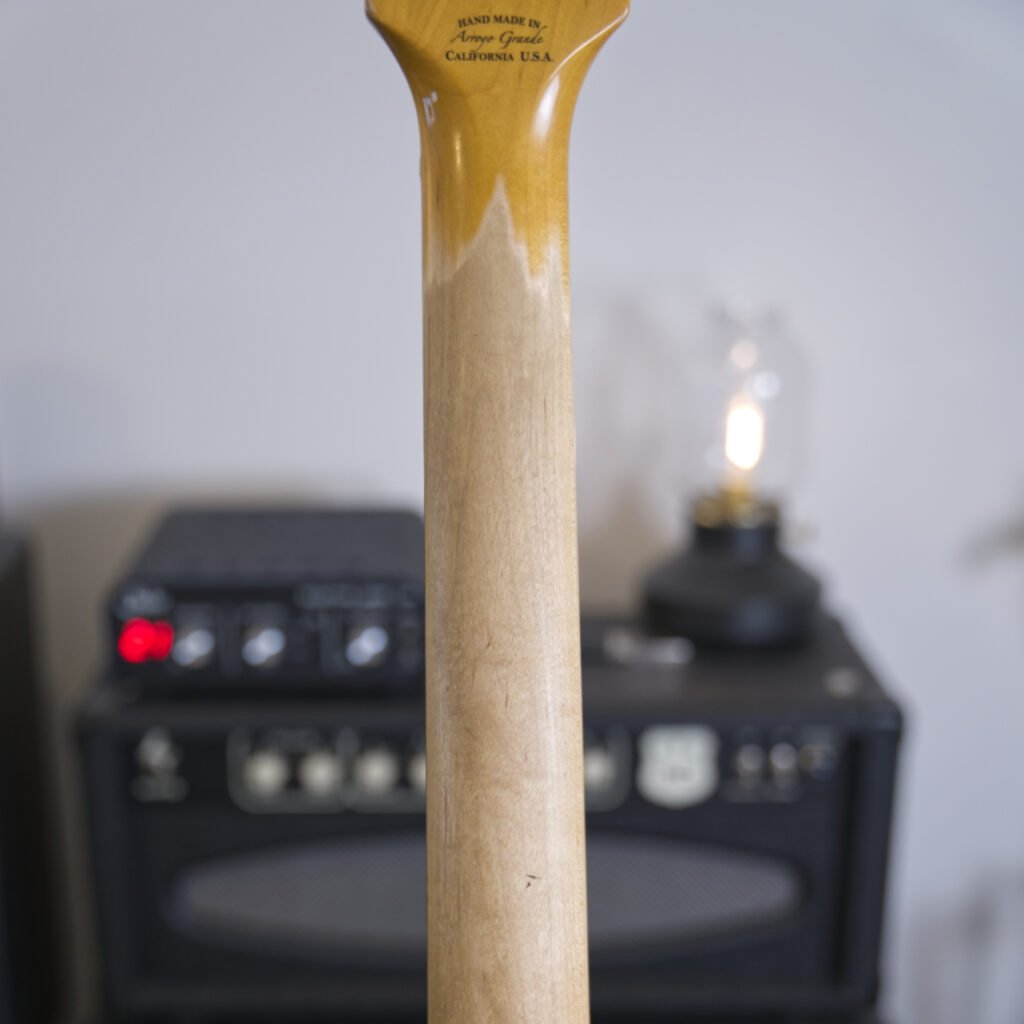 Scale Length
For electric guitar, you have two primary choices of scale length: long scale and short scale. Long scale is around 25.5" and can be found on most Fender and Squier guitars. Short scale ranges from around 22" – 24.75" and is featured on many Gibsons and Epiphones. A longer scale length is going to provide you with a little more tension compared to a shorter scale length when using the same string gauges and tuning. For most new guitarists, the difference between the two will be negligible.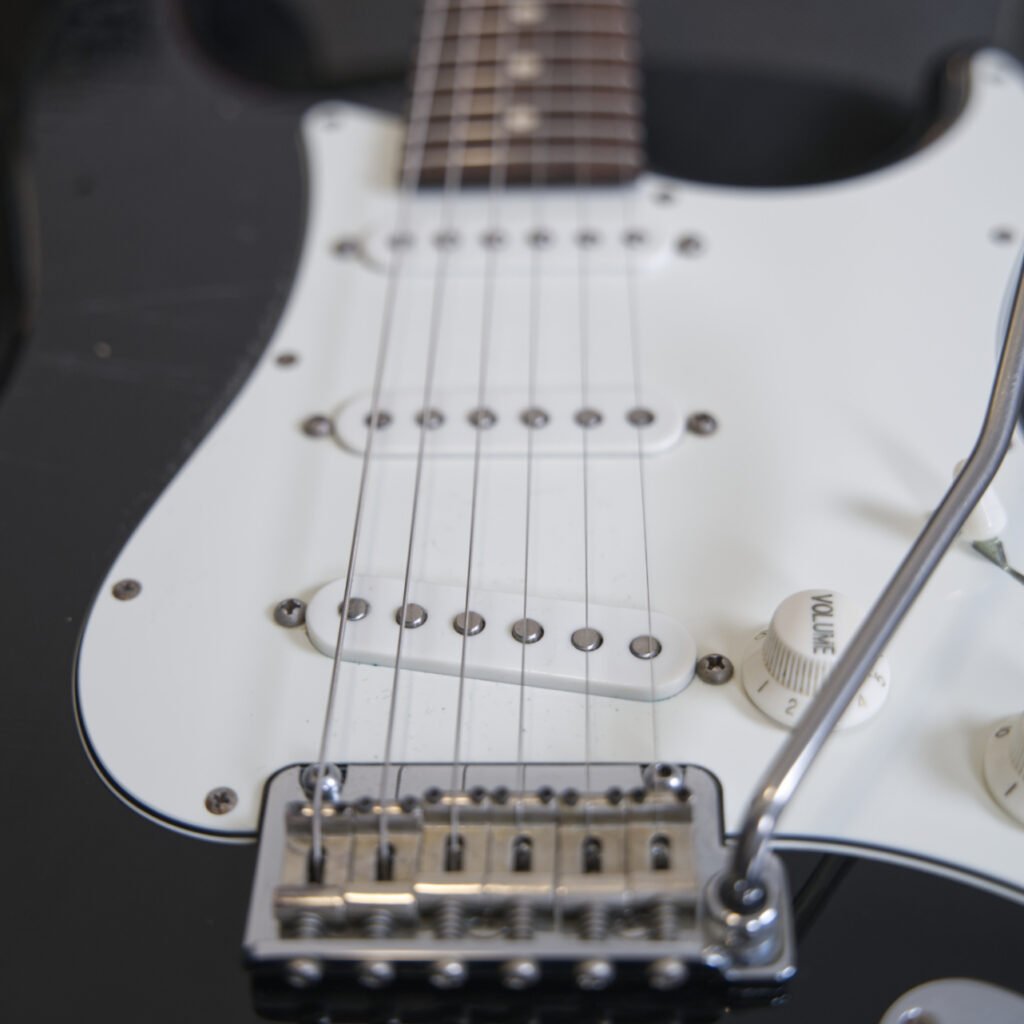 Fretboard Radius
This refers to the curvature of the fretboard. A higher number results in a flatter fretboard and a lower number will give you a more rounded fretboard. Flat fretboards tend to be easier to bend and play scales on, while rounded fretboards are easier to play chords on. Some high-end guitars will have something called a compound radius, which would give you a rounder radius near the bottom frets of the guitar and a flatter radius as you reach the higher frets.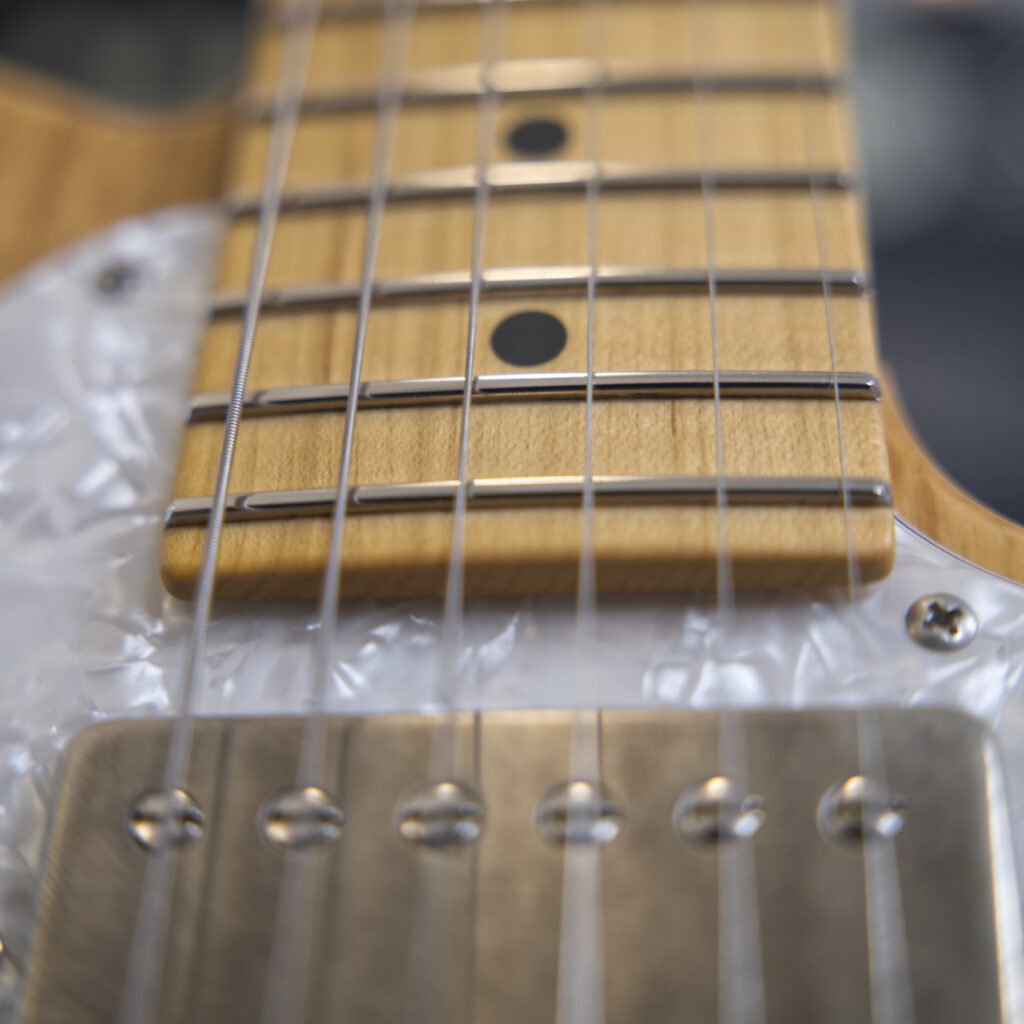 Nut Width
What this really refers to is the distance between the strings of your guitar. A narrower nut width will give you less space to work with, which can be especially uncomfortable if you have large hands or thick fingers. However, small-handed individuals tend to prefer the narrow nut width so they don't have to reach their fingers quite as far.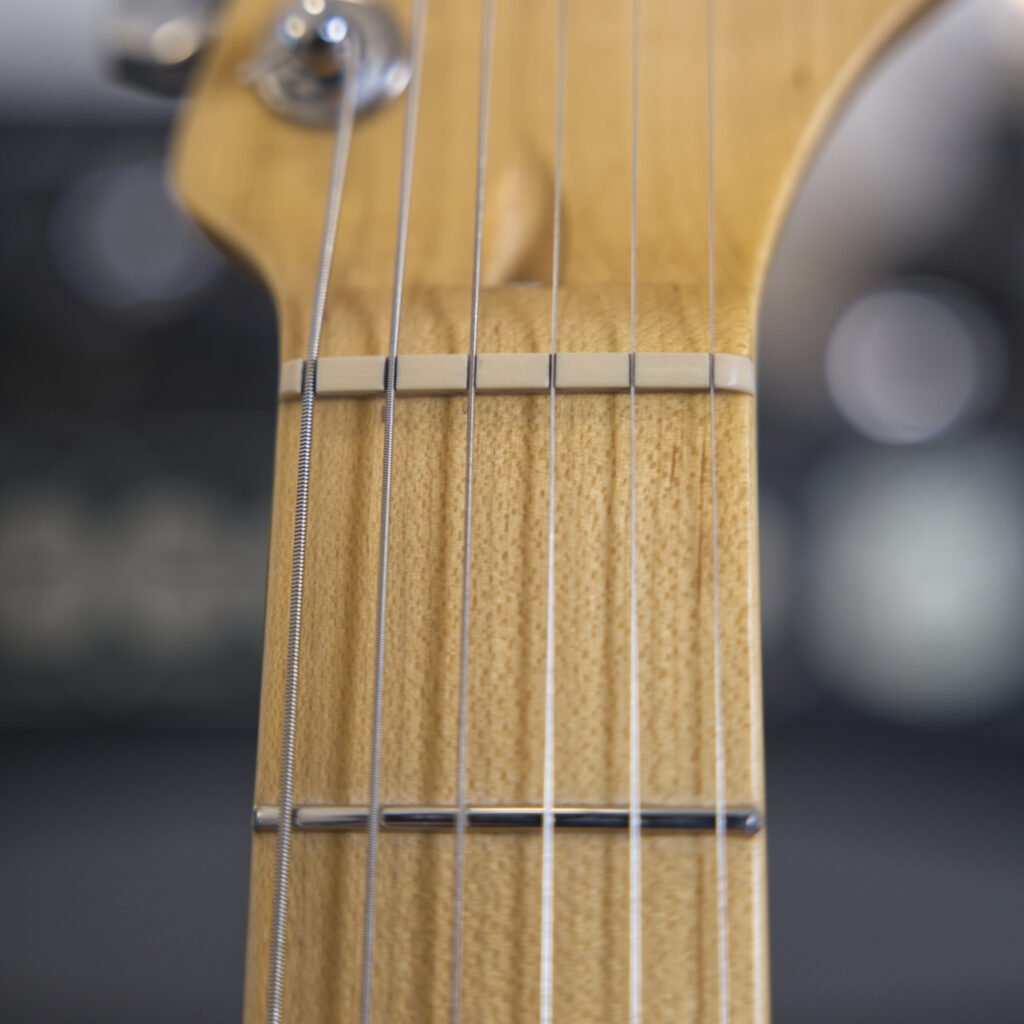 Frets
The two main things to look out for with guitar frets are material and size. The vast majority of the time, you'll find Nickel frets on electric guitars, but some high-end instruments will have stainless steel ones instead. As for size, it's going to mostly come down to feel. 6105 (modern narrow and tall) or 6130 (medium jumbo) are the most popular choices and will likely be your best bets.
Pickups
I touched on this a little bit earlier in the article, but pickups are the single biggest contributing factor to the sound of your electric guitar. There are plenty of different configurations out there to choose from, and ultimately, the style of music you want to play is going to dictate your optimal choice – humbuckers for more distorted tones and single coils for cleaner tones. However, it's important to note that you really can play any style of music on any type of guitar. There aren't any rules!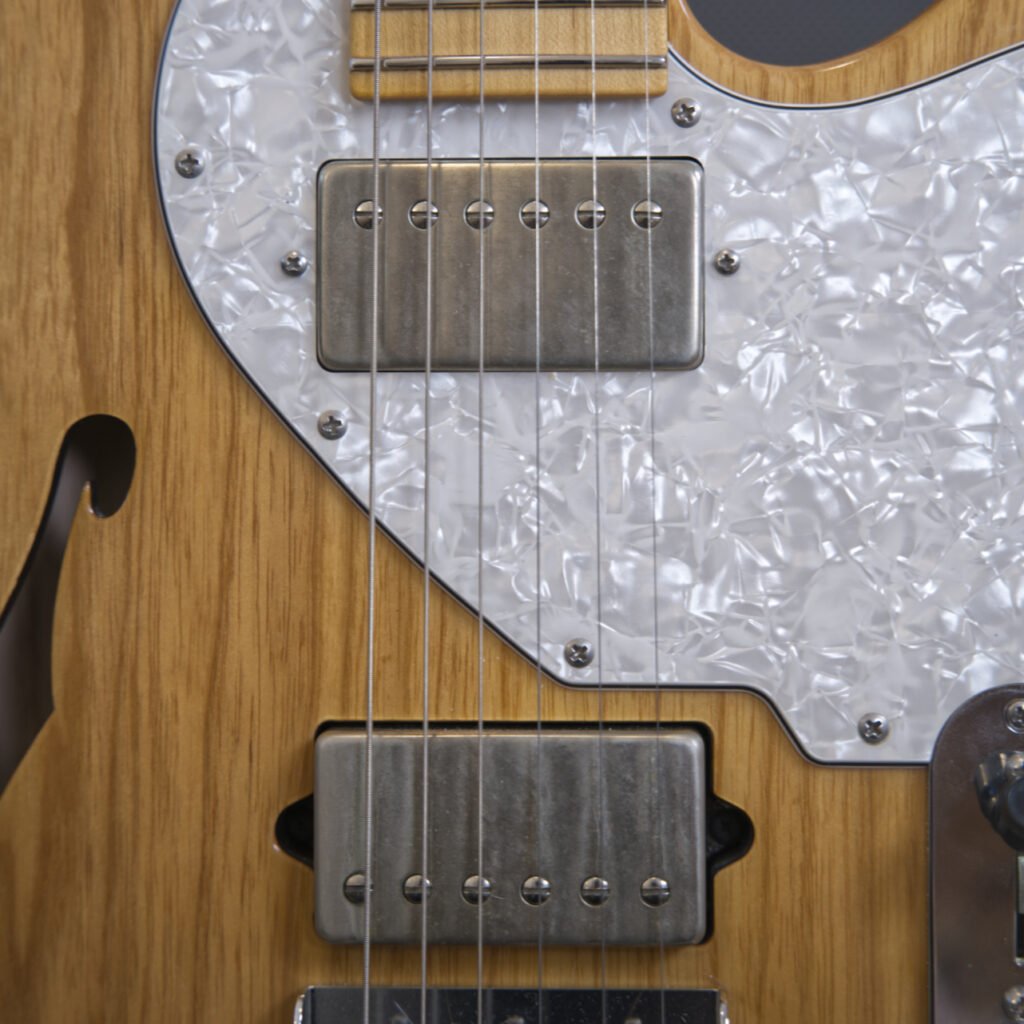 Electronics
The final specification we'll look at is electronics. Typically, this is where any knobs and switches come into play. Most guitars will allow you to control volume and tone (how bright or dark the sound is) with dedicated knobs. This is also where you'll find out what kind of pickup combinations the guitar has available to it. Usually, this is going to be thanks to either a 3-way or a 5-way switch. On a select few guitars, you may also have a switch for additional features like coil splitting or gain boosting.
III. Recommendations For Your First Electric Guitar
Best Electric Guitars Under $500
The guitars I've chosen for this category offer outstanding value for the money, but will likely be replaced after a few years of building your skills. You'll be able to cover a wide range of clean and overdriven tones with either of the two Squier Classic Vibe guitars shown below. I've also included the Ibanez RGRT421 for those who are more into modern rock or metal and an Epiphone SG for the classic rock tone seekers. These guitars
Squier Classic Vibe '50s Telecaster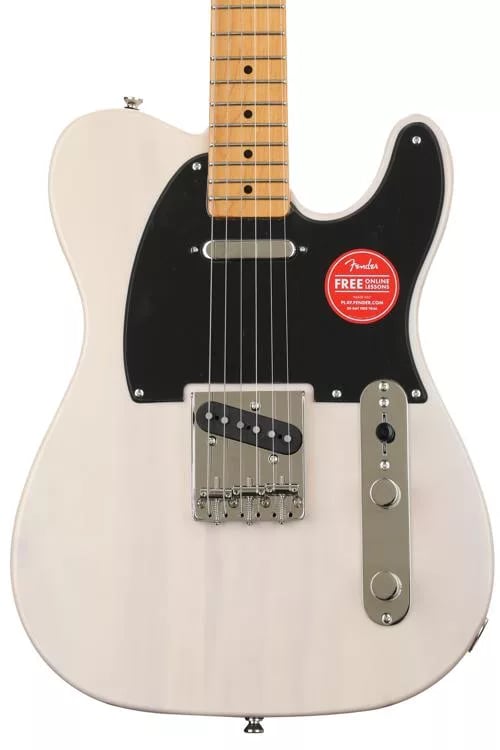 Buy Now: Sweetwater
Squier Classic Vibe '70s Stratocaster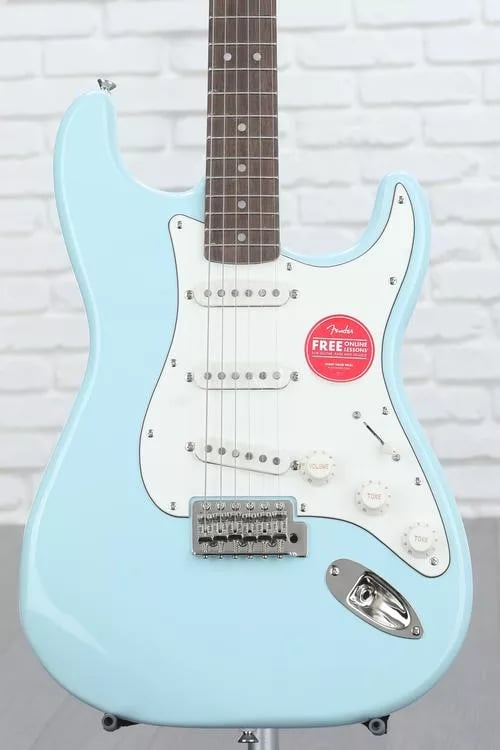 Buy Now: Sweetwater
Ibanez RGRT421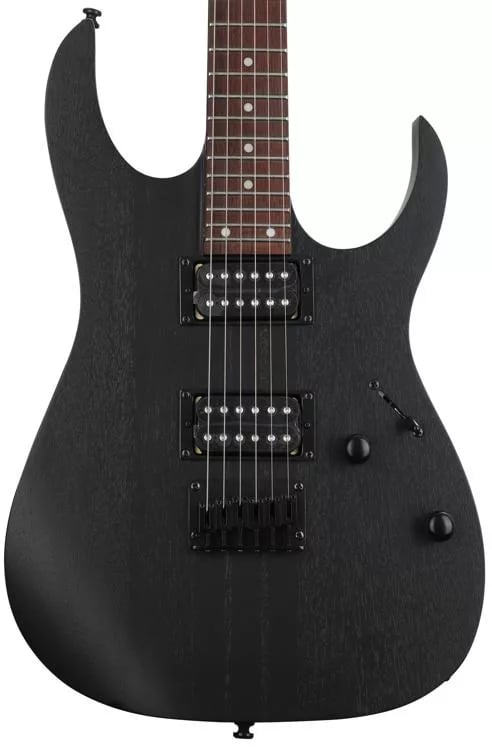 Buy Now: Sweetwater
Epiphone SG Standard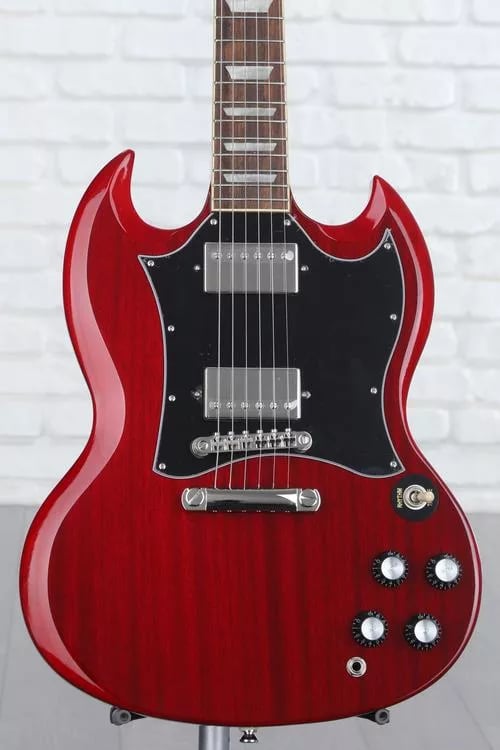 Buy Now: Sweetwater
Best Electric Guitars Under $1000
Next up, we have the sub-$1000 category. These guitars are more likely going to last you well into your guitar career and are the perfect "gig-worthy" instrument. I've included the best Telecaster for under $1000 as well as an alternative to the standard Fender Stratocaster with the Schecter Nick Johnston Traditional. For the humbucker enjoyers, we've got a fully blacked-out ESP LTD EC-401 (perfect for the super heavy styles of music), as well as the newly updated PRS SE McCarty 594.
Fender Player Telecaster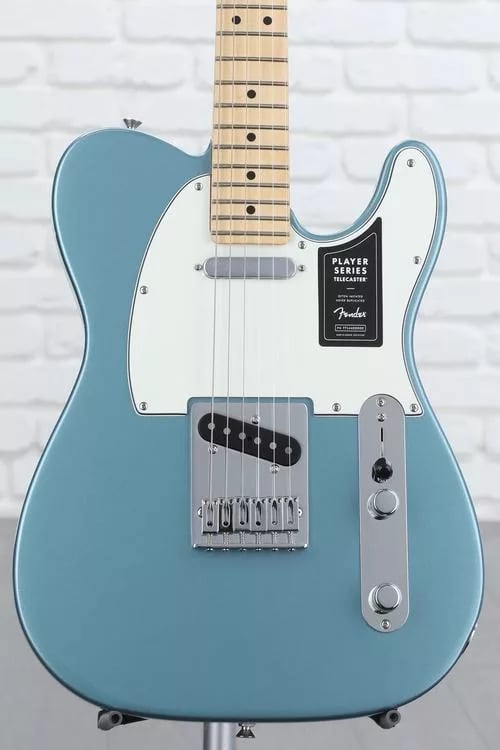 Buy Now: Sweetwater
Schecter Nick Johnston Traditional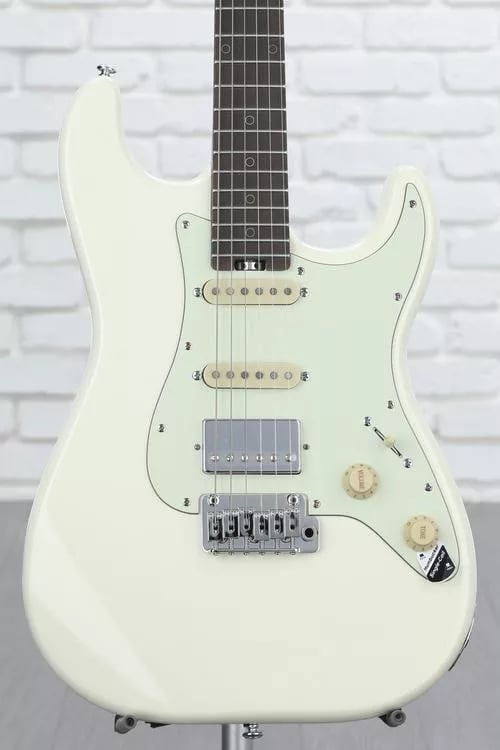 Buy Now: Sweetwater
ESP LTD EC-401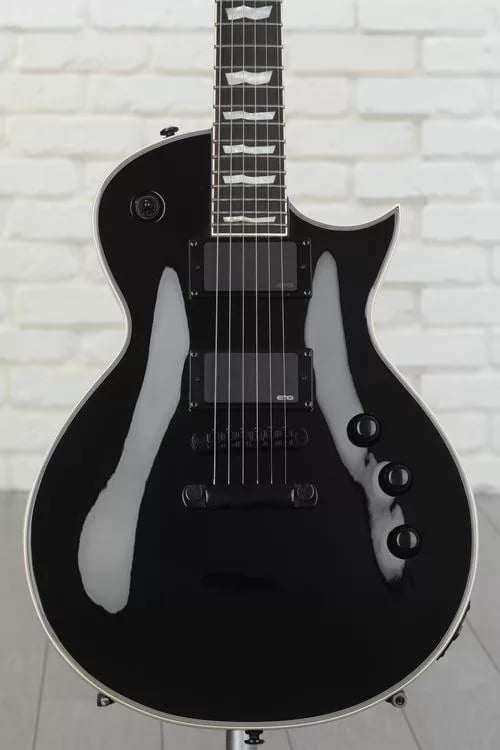 Buy Now: Sweetwater
PRS SE Singlecut McCarty 594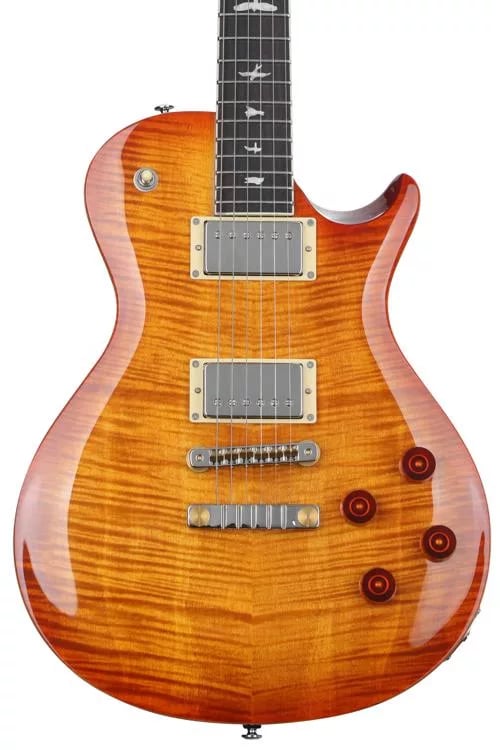 Buy Now: Sweetwater
Best Electric Guitars Under $1500
This is about the maximum I'd suggest spending on your first electric guitar. All four of the guitars I've recommended here are instruments that will easily last you a lifetime. The two single-coil-equipped guitars are going to do a great job getting you those classic chimey and twangy tones, while the two humbucker-equipped guitars are the perfect modern high-gain machines.
Fender American Performer Stratocaster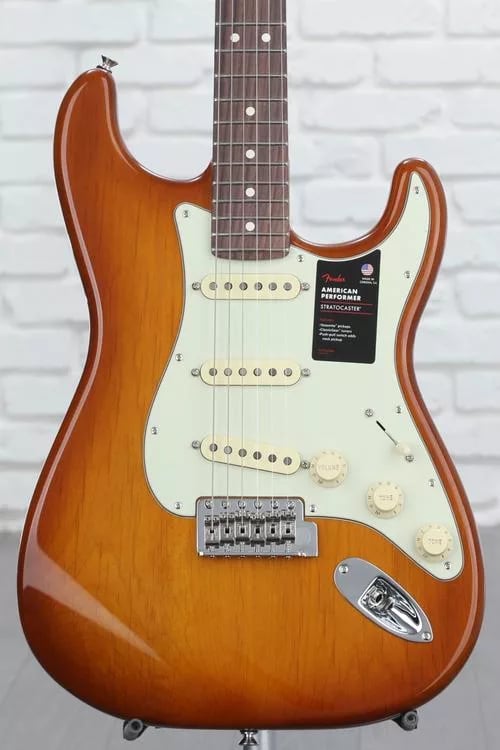 Buy Now: Sweetwater
Fender JV Modified '60s Custom Telecaster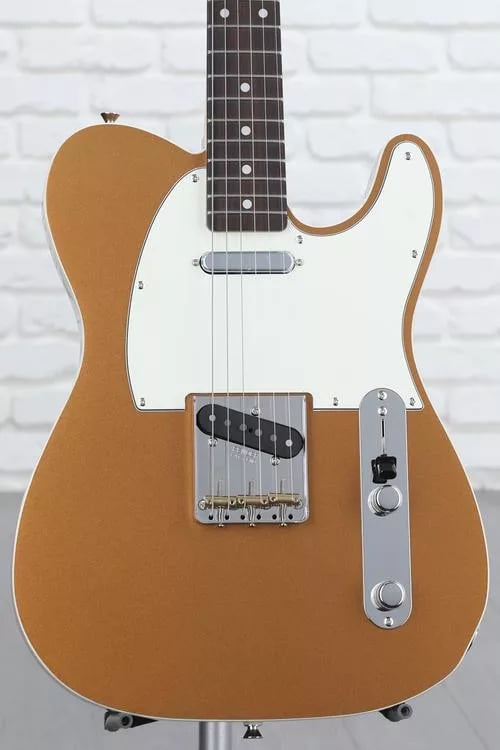 Buy Now: Sweetwater
Ibanez TOD10 Tim Henson Signature
Buy Now: Sweetwater
Schecter C-1 SLS Evil Twin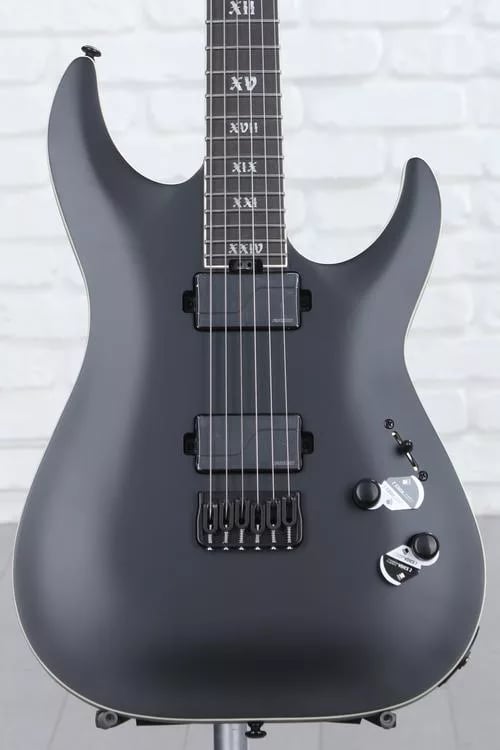 Buy Now: Sweetwater
There are plenty of other killer guitars that can be found in all these price-ranges, but hopefully, my suggestions help to give you an idea of the type of thing you should be looking for.
IV. Must-Have Electric Guitar Accessories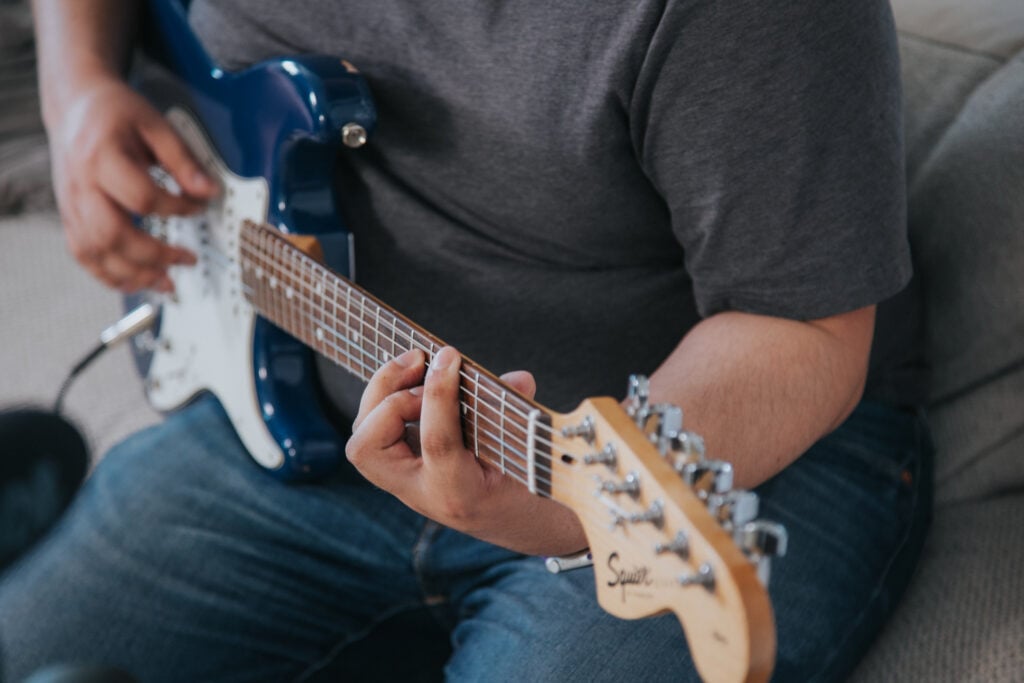 Tuner
It goes without saying that being in tune is the most important step to having a great-sounding guitar. And no list of essential guitar accessories is complete without mention of a reliable tuner. There are a few ways you can go here, but I like to recommend either a clip-on tuner or a pedal tuner. A clip-on tuner is more affordable and can be thrown in a drawer or gigbag easily. A pedal tuner is more expensive but offers a significantly better experience when performing live. Since this is your first electric guitar, I'm going to presume that you won't be gigging any time soon, which means your best bet is to go with the clip-on.
Our Recommendation:
TC Electronic PolyTune Clip
Amp
Unlike with an acoustic guitar, your electric guitar is going to sound pretty sad when it's not plugged into anything. You're going to need an amp. And thankfully, in this day and age, that doesn't mean dropping a couple thousand dollars on a Marshall half-stack or vintage Fender combo. You have options. You can even bail on the physical amp category entirely and opt for computer software instead. And don't let the tube amp purists sway you — software amps sound incredible in 2023. But if you're looking to go the more traditional route, I'd suggest picking up a good modelling amp that can help you dabble in a wide variety of tones until you settle on a more concrete vision for your guitar tone endgame.
Our Recommendation:
Boss Katana-50 MkII
Cables
You'll need at least one cable to carry the signal from your guitar to your amp. You don't need to think too hard about this, as pretty much any cable from a reputable brand will do. It's important to note that guitar cables tend to lose some of the fidelity of your guitar signal the longer they are. So it's best to pick the shortest cable that fits your needs. 10' tends to be a good choice for at-home use.
Our Recommendation:
Pro Co EG-10 Excellines
Strings
Your new electric guitar will likely come set up with a new set of strings, however, many new players don't realize how often you should be changing your strings. As someone who plays for at least an hour or two daily, I change my strings every couple of weeks. But when you're first starting out, that first set will probably last you a few months. Regardless, it's a good idea to have a backup set of strings on hand for when it's time to change them – or if you find yourself dealing with an unlucky string break.
Our Recommendation:
D'Addario EXL110 XL Nickel Wound
Pedals
I don't want to dive too deep into the topic of guitar effects pedals because they require their own dedicated article. But they can be a fantastic (and addictive) avenue for discovering new sounds and finding inspiration. If you do want to pick up a few pedals, an overdrive, delay, and reverb are a great place to start.
Check out our article on guitar pedals here: The Best Guitar Pedals For Beginners in 2023
V. Final Thoughts
To close things out, I want to reiterate just how excited I am that you're taking this big step. Regardless of which one you end up going with, purchasing your first electric guitar is something you'll remember for the rest of your guitar-playing life. So I urge you not to take this decision too lightly. Many musicians create an emotional or spiritual connection with their instruments, and you'll be surprised at how quickly you develop those sentimental feelings yourself.
Hopefully, this little guide has helped you to be just a smidge more confident in your guitar-acquiring venture. With a solid understanding of what factors to take into consideration, as well as some basic knowledge of all the possible electric guitar specifications, you should be sufficiently equipped to pull the trigger on an instrument that'll last a lifetime. Best of luck, and thanks for reading!
*This article contains affiliate links, which means we might earn a small commission from the product seller if you make a purchase. For more info, check out our privacy page.