(Download the sheet music for this lesson)
In the spirit of Halloween, we've put together a list of what we think are the spookiest guitar parts of all time. It's hard to pin down exactly what it is that makes a guitar riff "spooky", but these all seem to nail the vibe pretty well. The riffs in this lesson go from pretty recognizable to hauntingly obscure, so be ready for a few surprises! 
Learn riffs like these even faster with our interactive practice tool inside the Guitareo members' area. Start your 7-day free trial today.
One important thing to note is that a few of these guitar riffs are going to require you to put your guitar into alternate tunings. So make sure you've got your tuner handy! You'll find the necessary tuning information above the sheet music for the relevant songs. All right, Ayla and Kent are in costume, and it's time to get into the ten spookiest guitar parts of all time!
Riff #1 – "Black Sabbath" by Black Sabbath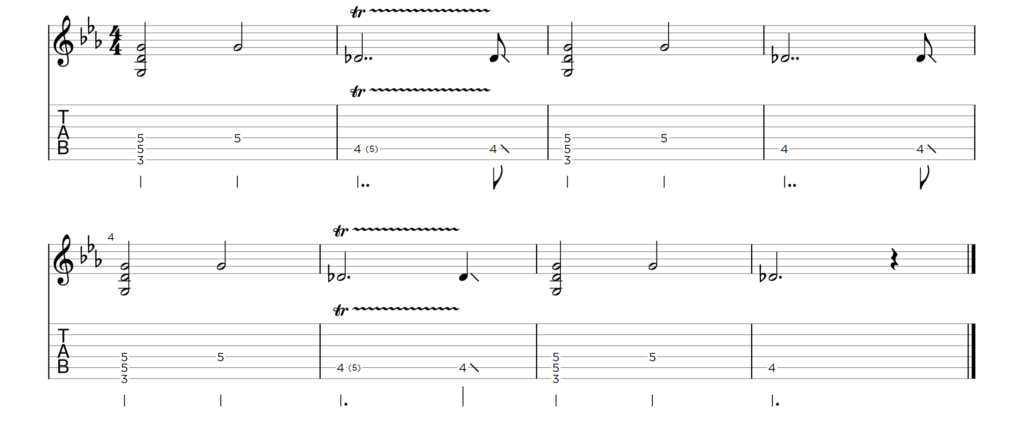 Riff #2 – "Seek & Destroy" by Metallica
Riff #3 – "Fourth of July" by Soundgarden
Riff #4 – "Frogs" by Alice In Chains
Riff #5 – "Don't Fear The Reaper" by Blue Oyster Cult
Riff #6 – "Shine On You Crazy Diamond (Part 2)" by Pink Floyd
Riff #7 – "Paper Cuts" by Nirvana
Riff #8 – "Sound Of Heaven" by Slayer
Riff #9 – "Breadcrumb Trail" by Slint
Riff #10 – "Magneto" by Messer Chups

And there you have our ten spookiest riffs of all time! Don't forget to start your 7-day free trial to Guitareo here. Have a Happy Halloween!